Writer Profile: Rena Owen
by Rena Owen
The New Zealand Writers Guild, January 1, 2010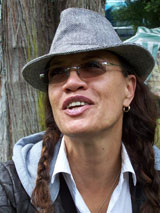 Kia ora koutou. My name is Maria Makarena Owen, more commonly known as Rena. Born and bred in rural Northland, my tribe is Ngati Hine/Ngati Pakeha. Although I am best known as an actor, few know that I have also been a writer for most of my life.Why did you decide to become a writer?It was in my genes, pre-determined, meant-to-be, destiny or whatever words you use for when it is not necessarily a conscious decision. Writing occurred naturally. I loved it in school and was first published when I was eight years old. I entered a Children's Poetry Contest, won it, received a whole $5 and my poem was published in the Sunday News!

What's your favourite genre/area to work in?

I started my professional writing career in the theatre and thus am a published playwright. I also loved being involved in theatre group collaborations, improvising and devising plays. Currently, my favorite genre is writing drama for feature films.

Your best writing experience to date?

Deciding to surrender my own will and follow a character I had not thought of, nor wanted! I already had too many characters and I was in the process of killing characters off! But with each draft I wrote I could sense this character standing behind my right shoulder. He just wouldn't go away. So eventually I found a scene he could be in. Once I let him into the story, I was amazed to watch the character's role not only grow with each draft, but he ended up becoming 'the character' who linked all the pieces of the story together in its final draft. Amazing what can happen when we follow rather than force!

Writing experience you would never do again?

I would not start work on anybody else's project without a clearly written understanding.

Your worst ever day job?

Cleaning someone else's toilet.

Your favourite writing prop?

Currently a bad one; a cigarette!

What aspect of the industry would you most like to see changed?

The financial rewards.

Currently working on…

A New Zealand epic pre-colonial feature film based on a novel called Behind the Tattooed Face. And a small contemporary Samoan family drama In Your Art which starts and ends in New Zealand but the bulk of the story happens in Los Angeles.

Your hot tips for other writers?

Write the stories that only YOU can tell!
Always have a hunger to learn! And let your intuition be your best guide. If you think you know it all, you'll be closed to learning and evolving. We can't o.d. on learning!

Gain new skills and strengthen your craft by doing it; write, write, write! Take classes, workshops, etc. Listen to those who have successfully trodden the path. Also check out-

http://www.creativescreenwriting.com

You may not be able to get to any of the numerous workshops or seminars on offer but they do sell the DVDs at very affordable prices! You can also sign up for their regular email newsletters which provide great articles, industry updates, etc, etc.

Finally, I am available to be your script doctor or script consultant at modest rates!

Films you wish you'd written:

One Flew Over The Cuckoo's Nest
A Street Car Named Desire
To Kill A Mockingbird
It's a Wonderful Life
Heavenly Creatures
Tracker

And so many more!
Copyright © New Zealand Writers Guild