BIOGRAPHY
One of 9 children, born in the Bay of Islands, New Zealand in the 60's, to a Maori/Welsh Father and a European Mother, Rena began her professional acting career in London 1984.
Rena Owen
"Rena Owen is the pre-eminent cinema actress of her generation"

Lindsay Shelton-NZ Film Commission
Owen became one of New Zealand's most successful and recognizable Actors on the international film platform following her performance as Beth Heke in Once Were Warriors, New Zealand's most successful film to date. Her performance earned her Best Actress Awards at the Montreal, Oporto, Seattle, and San Diego Film Festivals. The Cannes Film Festival's Spirit Award, while in New Zealand she received the Benny Award for Excellence and Contribution to the Industry, and the Toast Master's Communicator of the Year Award.
She began her acting career in London in the mid 80s, trained at the Actors Institute, and worked in British Theater. Highlights include, Voices from Prison for the Royal Shakespeare Company, Co-Existences for the Elephant Theater, and Outside In, which debuted at the Edinburgh Festival and toured London. She worked for two years with a London based Theater Company, Clean Break, who produced the first Play written by Rena The River that Ran Away. Directed by Ann Mitchell, and starring Rena in the lead, it enjoyed a successful London tour, and was later published by NZ Playmarket in 1991.Rena returned to NZ in 1989 and continued to work extensively in Theater and Television. Highlights include Stephen Berkoffs West and Kvetch for Ocean Productions. The Hungry City which opened the Watershed Theater. Whatungarongaro, which toured NZ and played at the Adelaide Festival in Australia. Daddy's Girl written by, and starring Rena and Wi Kuki Kaa, enjoyed a critically acclaimed Wellington season. During this period she also directed stage plays, helped to devise plays, worked as a Dramaturgy for Playmarket, wrote and read short stories for Radio NZ. Recent theatre credits include starring in a classic NZ play, Haruru Mai, directed by Colin McColl for the International Festival of the Arts, and directing Toa Fraser's, Bare for the AATC in San Francisco.
Television credits include NZ series, Shark in the Park, Betty's Bunch and Coverstory, which earned her a TVNZ Best Actress Nomination. One hour TV dramas include, The Call Up, The Visitation and, Savage Play, a BBC/TVNZ mini series. Rena was principal cast of an Australian medical TV series for two seasons, Medivac. In 2000, Rena guest starred in a British TV series, Dark Knight, and in David Kelley's Gideon's Crossing. She also played a lead role in the NZ Aroha Series, Mataora. Rena has also done Voice Over work, and Presented a Documentariy.
Rena's first feature film was a supporting role in the Kevin Costner/Kevin Reynolds, Rapa Nui in 1993. Followed by the lead in Once Were Warriors, voted one of Time Magazine's top 10 films in 1995. Other NZ feature films include, Roimata, I'll Make You Happy, What Becomes of the Brokenhearted and When Love Comes. NZ short films include, Her Iliard, Nine Across, and Hinekaro. Australian feature film credits are Vaudeville House and Dance Me to my Song, which was in competition at the 98 Cannes Film Festival and earned Rena a Best Supporting Actress Nomination at the Australian Film Awards 1999.
2000, Rena set up a base in Los Angeles to learn more about the art of filmmaking. She also continued to act as, Taun We in George Lucas's Star Wars Episode 2, Attack of the Clones. A cameo role in Steven Speilbergs A.I, a supporting role in a USA Independent action feature, Soul Assassin, shot in Holland. A supporting role in a USA Network Movie of the Week, An All American Girl. She guest starred in WB's Angel, playing a Demi-Goddess called Dinza. A Hit Woman in a Los Angeles short film, Sidney, a Tibetan Nun gone wrong, in a Martial Arts film for Sunset Studios USA. A Psycho Killer in a NZ/Canadian Co-pro, Nemesis Game, set and shot in Toronto. A pre-colonial Warrior Woman in the first Rotuman feature film, The Land Has Eyes, which premiered at this years Sundance Film Festival 2004.
To be released in 2004/2005, Rena has completed a supporting role as Crazy Norma in The Water Giant, a Canadian family film. Cameo roles in USA Independent features, Pledge of Allegiance, and Crow 4, Wicked Prayer. She returns as a Senator in the next Star Wars.
During the last 10 years, Rena has extensively toured the International Film Festival circuit to promote various Films, and also to serve on the Jury of the Montreal, Manila, Hawaii, Santa Barbara, and the USA Film Festivals. She has also served as a Consultant for IFP West and the Sundance Screenwriters Lab, and been on the Sundance Selection Panel. When time allows, Rena does Public Speaking, lectures at Universities, and Teaches Drama.
 Rena's  motto…"love what you do and do it to the best of your ability"
Rena Owen's background – in her own words:
As a Maori girl of Ngati Hine descent, growing up in the country, my natural introduction to the Entertainment Industry began as a 6 year old with traditional Maori Singing and Dancing; Kapa Haka. Learning to sing from my heart about my cultural heritage and moving my body in unison with the words. I went from my Primary School Club into the Bay of Islands College Maori Culture Group.As well as studying the language, we would regularly entertain other schools, any visiting groups and distinguished visitors. Sadly, back then in the 60s and 70s, this was one of the only arenas in which Maori were seen and heard. As a result of being in the Maori Culture Club, I was asked to audition for the yearly College Musical production. My first stage role was as Bloody Mary in South Pacific 1977. The following year, I was promoted to the lead role of Calamity Jane in Calamity Jane, I also acted in local Church Plays.
I was awarded a Prize for my Cultural Contribution to the Life of the School, and was one of the few Maori to graduate with School Certificate and University Entrance, at the end of 1978. Despite a natural talent and a love of the stage, I did not pursue Acting as a career due to three reasons. Acting was not seen as a career; as a woman in the late 70s, my career options were; I could be a Secretary, a Nurse or a Teacher, thirdly, and most potent; I had no role models.
The only Maori face I remember seeing on our TV screen growing up, was Marama Kingi who used to read the news. So I moved to the city of Auckland to pursue the Nursing career I was destined for. Within this profession, I was also a minority, one of only two Maori in a class of 66 women. I qualified as a General and Obstetric Nurse and traveled to London in 1982 with intentions of furthering my Medical career. As destiny would have it, fate got the better of me and I claimed my rightful place as a professional Actor in 1984.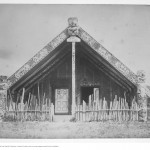 Photo: Sir George Grey Collection