Rena Owen follows her heart home
by Donna Fleming
New Zealand Woman's Weekly, December 7, 2011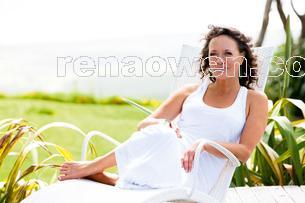 Rena Owen has the world at her feet. The acclaimed Kiwi actress has just won a major acting award, taken on the most challenging role of her career and is excited about spending more time at home in New Zealand.
After a tough decade, in which her marriage broke up and her beloved mum died, everything is now going her
way and Rena has revealed that she's ready to start looking for love.
Single for the past five years, the talented actress feels it's time to have someone special to share her life with
and hopes moving her base from Los Angeles to Auckland will make that easier.
"I think I've got a better chance of having a relationship here," says Rena (51), who was married to her ex-husband, an American security consultant, for four years.
"I'm an old-fashioned girl, I don't want to be a spinster for the rest of my life. Nobody is born to be alone. We all
have the basic need to love and be loved.
"But it's hard to find the right person. I need someone who can handle the nature of my work – a lot of men are threatened by who I am."
Rena says she has never been out with anyone in the film and TV industry, preferring to keep her work and love life separate.
"But I may have to find someone in the industry who isn't threatened by what I do, and can handle me doing 14-hour days or going off to another country for work."
However, the one thing she will never do is set her sights on a man who is already taken.
"I don't want another woman's man. I would never do that. I've been cheated on. I met the love of my life and all I wanted to do was marry him, but he cheated on me and broke my heart."
"I just would not do that to another woman. Maybe that's why I'm still single."
Rena didn't want to rush into romance when her marriage ended, and after her mum Cynthia died three years ago, she wasn't emotionally ready for a new relationship.
"Mum dying was the biggest heartbreak of my life – she was my best friend," says Rena.
However, she's hopeful now is the right time.
"You can't force these things, but I feel it is going to happen."
In the meantime, there are other great things happening in her life, such as winning the best actress Afta (Aotearoa Film and Television Award) last month.
"I was so thrilled to win. It means a lot to me because it's come from home. And because I got so much flak
for doing Shortland Street."
Rena says people questioned why an award-winning movie and TV actress would accept a role on a soap opera.
"Even the woman at customs gave me a hard time. And there are people in the industry who look down on it – I found myself having to defend it," she says.
"But it's one of the most challenging gigs I've ever done because of the fast turnaround. It was a brilliant place to hone your craft. You have to be so disciplined and focused.
"I left Shortland Street in absolute awe of the machine that it is and the people who work there."
Rena says her character, recovering drug addict Hine Ryan, was fantastic to play.
"It was some of the best material I've ever been given."
She has since had another brilliant role to sink her teeth into, playing Kitty Montebello, the mother of a crime family, in Australian series The Straits.
"She's a real piece of work," explains Rena. "I had to go to a lot of dark places to play her."
Rena says Kitty was an even bigger challenge to play than the role which cemented her reputation as one of our best- ever actresses – Beth Heke in Once Were Warriors.
"Kitty's the most compelling role of my career, even more so than Beth," says Rena, who originally trained as a nurse, but started acting while on her overseas experience in England 26 years ago.
She's spent much of the past 10 years based in LA for work, although she says she's always called New Zealand home.
"I know people think I've been in LA all the time. But I've been back a lot over the years and I tell everyone I still live in Aotearoa, but I go to school in La-La Land."
She's now hoping to spend more time at a property she owns at Muriwai, on Auckland's wild west coast.
"My work is still going to take me overseas, but it will be good to be here more often. I'm a Kiwi girl and New Zealand will always be my home."
– Donna Fleming
Copyright © New Zealand Woman's Weekly