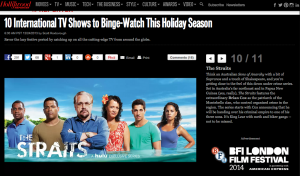 _______________________________________________________________________________
Big screen will make mau rakau cool
Filming [December 17, 2013] Expect an upsurge of interest in the Maori martial arts when a new action epic hits theatres around the world. Actors including Boy star James Rolleston, Lawrence Makoare and Rena Owen are out at Piha this week filming The Dead Lands under the direction of Toa Fraser. Co-producer Tainui Stephens says the historic revenge tale is the first completely Maori language film since The Maori Romeo and Juliet, and the action sequences rely heavily on how mau rakau will look on the big screen. "We did a dress rehearsal of one of our main fights and showed it to some tamariki and they were thrilled. All they wanted to do was go and grab a broomstick and start doing all of that stuff themselves, which in a sense was exactly what we want. Many years ago when Mai FM started the 'cool to korero' kaupapa, it has taken off big time, and for young people, it is important for the kaupapa to be cool. So we want mau taiaha and the Maori martial arts to be cool to our young people," he says. Mr Stephens says The Dark Lands project has come together quickly because of its broad appeal, with overseas funders and distributors keen to participate.
---
Rena at the Australian Academy of Cinema & Television Arts
Award Nomination [January 30, 2012] Rena is now in Sydney to attend the Australian Academy of Cinema & Television Arts (AACTA) to be held at the Sydney Opera House January 31st. She has been nominated for Best Guest Star or Supporting Actress in a Television Drama for her work on East West 101 Season 3 in 2010. Two days later her new explosive ABC TV Series goes to air! You can follow the show on- Twitter @TheStraitsTV
---
Rena wins Aotearoa Film and TV Award
Award [November 15, 2011]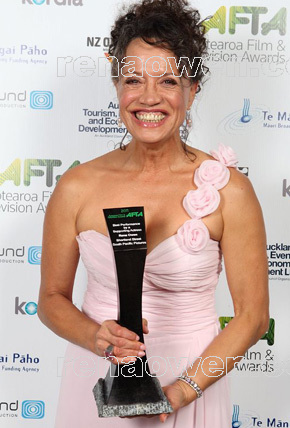 Rena Owen with her Best Supporting Actress Award – Shortland Street Well-known New Zealand actress Rena Owen was acknowledged for her work on Shortland Street on Saturday when she won an Aotearoa Film and TV Award for her work on the show. Up against some stiff competition, Rena won Best Supporting Actress for the role of Hine Ryan, Scotty's wayward mother. At a glamorous event held at Auckland's Viaduct Event Centre, attended by the who's who of New Zealand Film and TV, Rena was incredibly proud to accept the award for her work on the country's longest running serial drama. "Winning the Best Supporting Actress AFTA Award for my work as Hine Ryan was one of the most exhilarating moments of my entire life time," she says. "It was an awesome, incredible, unforgettable moment. A career highlight and a privilege! I felt so proud to stand there on behalf of our longest running, most beloved and most iconic TV series of all time!" Current Shortland Street stars attended the event on masse in order to support Rena during the event and were proud to see the actress saluting the show. "It was amazing to work with Rena when she was here on Shorty," says Frankie Adams who plays Ula Levi on the show. "She's such an iconic New Zealand actress and it was amazing to have her in the building. To have her win an award and acknowledge all the hard working people that make the show was absolutely awesome.
---
Rena nominated for an Aotearoa Film and TV Award
Award Nomination [October 28, 2011] Big congratulations to Rena Owen who has been nominated for an Aotearoa Film and TV Award for her work on Shortland Street. The highly talented actress played Scotty's (Kiel McNaughton) mother, Hine Ryan in late 2010 and early 2011 and has been nominated for a Best Supporting Actress Award for her work. Formerly known as the Qantas Film and Television Awards, the Awards are back in 2011 but with a fresh look and a new name – the Aotearoa Film & Television Awards (AFTAs). The Awards will be announced on Saturday, 12th November at a glamorous red carpet event to be held at the new Viaduct Events Center.
---
Rena to host concert to help Christchurch earthquake victims
Event [April 14, 2011] THOUSANDS are expected to flock to the Christchurch Concert Appeal at Parramatta Park on Saturday. From 2pm to 10pm, the concert will feature singing sensations Renee Geyer and Maisey Rika, X Factor stars Mahogany and will be hosted by Kiwis actress Rena Owen. There also will be a candlelight ceremony to remember those lost in the 6.3 magnitude February earthquake. Organised by the Nga Uri Rahiri and supported by Parramatta Council and the New Zealand Consulate General, the concert will give people the chance to remember the tragedy and to help those who suffered. Lord Mayor John Chedid said he was confident the people of Parramatta would want to take part. "The people of Parramatta have a strong sense of compassion," Cr Chedid said. "I'm still profoundly moved by the outpouring of support from local businesses and communitymembers who added to council's donation to raise $100,000 to help Queensland after the recent floods." * For more information go to christchurchconcert appealparramatta park.com.
---
Rena nominated for Outstanding Actress award for East West 101
Nomination [April 1, 2011] Rena has been honored with a nomination in the Outstanding Actress category for her performance in East West 101. The Monte-Carlo Television Festival, held June 6-10, 2011, was created in 1961 by Prince Rainier III of Monaco to "encourage a new art form, in the service of peace and understanding between men".
---
 Watch "Hinekaro Goes On A Picnic and Blows Up Another Obelisk" online
News [February 9, 2011] Courtesy of New Zealand Film Commission, you may now watch the 1995 short film "Hinekaro Goes On A Picnic and Blows Up Another Obelisk", in which Rena voices the trickster spirit guide Hinekaro.
---
Rena up for 2011 TV Guide Best of the Box Award
News [February 9, 2011] Fans of Rena Owen and Shortland Street can now place their votes in 2011's TV Guide's annual Best on the Box Awards! Rena has been nominated for the Best Actress award for her role as Hine Ryan on Shortland Street. All entries will go into the draw to win one of five MY SKY HDi decoders (including installation), 12 months' subscriptions to SKY Basic package, SKY Sport and SKY Movies. In last year's competition, more than 200,000 votes were cast across 27 categories. This year's awards mark the introduction of one new category which, for the first time, will give voters the opportunity to name their favourite channel. Voting forms will be published in the February 10 and 17 issues of the TV Guide. To vote online, visit www.tv-guide.co.nz/botb2011. Voting closes on March 4 at 5pm with winners announced in the March 17 issue of the magazine.
---
Rena appears in television drama "Shortland Street
Role [November 18, 2010] Shortland Street has been the training ground for many a New Zealand actor and now even one of the country's most celebrated actresses says she is learning more than she imagined she could from the show. Rena Owen, best known for playing Beth Heke on Once Were Warriors and its sequel, makes her first appearance as Scotty's (Kiel McNaughton) estranged mother Hine Ryan this week. Stealing a few minutes on the phone between scenes, Owen admits she has never been on such a high-pressured show. Rena Owen is the latest well-known Kiwi actor to land a role on Shortland Street. Photo / Supplied "I've never had to work so fast in my entire career and by gosh do you have to be on top of your game. I would like to think it has helped me be a better actor. "I'm in awe of Shortland Street, it is such a well-oiled machine, you don't get time to think about anything else, I'm definitely having my work cut out," she says. Owen has been living in Los Angeles for the best part of 10 years, where more recently she has been honing her film-making skills. She has been popping back and forth from New Zealand for various projects, and says this time it was the prospect of such a juicy character that lured her home. Hine is a former drug addict who ran away and abandoned her children, then later learned to deal with the errors of her past, and made amends with her son. "What attracted me to her storyline is there is such a lot of hope. She's an example of people being able to change, and of reconciliation which I think is very needed among our own families and others around the world," Owen says. "I think it's completely relevant. Not just to Maori families but to all kinds of families. We are living in an era now where disenfranchised families are very common, unlike in the era I grew up in. This is a family trying to fix itself." Hine may have been a troubled mother, but she totally different to Beth, Owen says. "Beth wasn't a drug addict, she didn't run away from her children, she actually hung in there through thick and thin. She loved her husband, she was absolutely in love with him." She says she is excited to star on the much-loved New Zealand soap, following in the footsteps of her Warriors co-star Temuera Morrison. "I've always wanted to be on Shortland Street, because it's the most watched TV series in the country, it will always be part of our pop culture history, and I think for every New Zealand actor it's an honour to do your bit on the show," she says. Although the only characters she recognised when she returned were long-standing pillar of the show Chris Warner (Michael Galvin) and recently returned Rachel McKenna (Angela Bloomfield), she says it didn't take her long to slot into the team. Hine's first few episodes will be dramatic, Owen says. "There's a lot of good juicy scenes between Hine and Scotty. Then there's a lot of scenes between Hine and Tracey. There's a lot of great woman to woman stuff. Really I have been so impressed with the writing." LOWDOWN When: Monday, 7pm Where: TV2 What: Rena takes it to the Street -TimeOut
---
Upcoming Spout Screenings
Screening [July 8, 2010] SPOUT premieres in NY at the HBO NEW YORK INTERNATIONAL LATINO FILM FESTIVAL! JULY 28th 10 PM @ THE VISUAL ARTS THEATER on 23rd st between 8th and 9th Ave VC is doing an encore screening of the best shorts from the LAAPFF. SPOUT will screen on AUGUST 5th at the David Hwang Theater in downtown LA.
---
Rena to present at Samoan Achievers International
Appearance [May 6, 2010] Rena has been invited to be a presenter at the Samoan Achievers International Awards, Friday, May 7, 2010, at the Hyatt Regency Hotel in Long Beach. Tickets are still available.
---
Spout screening at LA Asian Pacific Film Festival
Screening [April 6, 2010] Spout will be screened at the Los Angeles Asian Pacific Film Festival, Saturday, May 1 at 10:00 PM in DGA Theater 2. Since 1983, the LAAPFF has presented over 3000 films and videos by Asian international and Asian American artists, and additionally features seminars and panels, in-person guest appearances, and filmmaker awards. The festival continues to be the largest festival of its kind in Southern California and is the premier showcase for the best and brightest of Asian American and Asian international cinema.
---
 Spout premiers at SFAIFF
Premiere [February 9, 2010]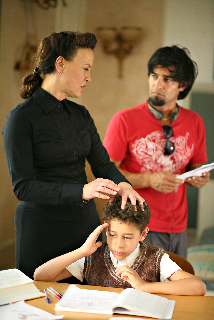 Alex Munoz directs Rena Owen and Tristan Bice-Bey in Spout (photo: Katrina Marcinowski) A devoted grandmother will stop at nothing to keep her beloved grandson close – even murder. Spout is a cross-cultural, camp, comedy-horror mash-up starring Rena Owen (Once Were Warriors, Star Wars) and introducing Tristan Bice-Bey. The short dramatic feature film premiers at the San Francisco Asian International Film Festival in March 2010. Spout was directed by Alex Munoz (Chamorro) and produced by an entirely Pacific producer team: Alex, Rena, Hawai'i-based James Sereno and Karin Williams (Cook Islands/Aotearoa). Spout @ San Francisco Asian International Film Festival Friday, March 12, 9:30pm Sundance Kabuki Cinemas Thursday, March 18, 5:00pm Viz Cinema
---
 Kiwi screen star hosts workshops
News [December 15, 2009]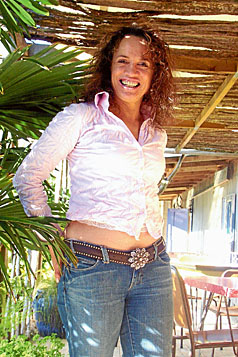 Renowned New Zealand actress Rena Owen will visit Kaitaia tomorrow to offer film production tips to budding film makers. The Los Angeles-based star of Kiwi film Once Were Warriors will direct a one-day workshop called From Script to Stage or Screen at the Little Theatre from 10.30am to 3.30pm. She will also give a presentation at the Allen Bell Drive, Waiare, home of John and Lois Knight where she will talk about her career and the film industry from 6pm to 9pm. Workshop organiser Cheryl Rapira says Rena is visiting the north to highlight opportunities offered by local filmmaker Peter Tait's new feature film project Somewhere Further North. Ms Rapira says Rena is supportive of the film being shot in the Far North and her offer to help is timely and exciting. "It will strengthen collaborative project relationships, keep the profile high in the community and provide new skills for actors, directors and interested people," she says. Tait's film will involve resources, talent, people and businesses from the Far North district and Northland. It is seen as a stepping stone towards the establishment of a district governing film body. Tickets for the workshop and presentation are $40 and available from Kaitaia i-SITE. Places at both are limited and there is an R18 age restriction on the evening presentation.
---
Rena Owen helps our rising stars
News [December 4, 2009] Rena Owen is supposed to be back from Los Angeles on holiday but the Once Were Warriors star is stopping in Hamilton this weekend to give a small group the benefit of her experience. The sold-out workshop takes place at Waikato University's Wel Energy Trust Academy of Performing Arts, with 22 people getting the opportunity to work with one of New Zealand's most experienced actresses. "I enjoy seeing people grow," said Owen. "If you have experience, why take it to the grave?" The two-day seminar will cover script writing, character development and performance. Owen made it clear she is not the rich Hollywood celebrity people like to think – she is driven by passion rather than money. "Life is a give and take situation. My desire to give back comes out of a feeling of being grateful," she said. But she admitted her life would be a lot easier if she was more self-centred. "You get frustrated. I'd love a regular income but I was born to be an artist – born to be creative." Owen recently played Aroha Mataira in Bruce Mason's classic The Pohutukawa Tree, a role she said she had always had her eye on. But she said she never felt any nerves when it came to filling the role of the main character. "It was an honour and there's no pressure when it's an honour." Workshop organiser and Waikato University senior lecturer in theatre studies Gaye Poole said having Owen at the venue was "too good an opportunity to turn down". Mature student Clive Lamdin is attending the workshop and keen to hear the advice Owen has to give. "I'm looking forward to meeting someone who's at the top of the acting tree in New Zealand and seeing what she has to say about theatre," he said. Whetu-Iti Silver, a theatre studies honours graduate and Hillary scholar, said she was interested in how the workshop would be run and was looking for advice about getting into the industry. "In the future I want to be providing workshops for young people like myself," she said. Owen said starring in Once Were Warriors was much more of a blessing than a curse. "You'd rather have it than not have it. Some actors have gone through their careers and never had that kind of break," she said. "To this day I still get fan mail so I consider myself blessed." On her travels up the country Owen was invited to a read through with a theatre group and a few days later the group sent her a thank-you message containing a Maori proverb. The proverb translates to: "It's the responsibility of our people to share the benefits of knowledge. If they are not shared, we all fall," which Owen said encompassed her attitude to her work and much of her life. After the workshop Owen is going to the Bay of Islands where she will do a couple of school prizegivings and spend Christmas and New Year with family before travelling back to the US in late January.
---
The Pohutukawa at the Maidment Theatre
Review [September 7, 2009] A tale of two families – one Maori, the other Pakeha – involving land, religion, lust and injustice is a familiar trope these days (most recently seen in Te Karakia). However, when Bruce Mason (of The End of the Golden Weather fame) wrote The Pohutukawa Tree 50 years ago, it was a prototype of operatic New Zealand family drama. The trials of the proud Aroha Mataira, as her children rebel against her strict rules and her absent iwi conspire to sell the land she lives on, don't speak directly to today's bicultural politics, but Mason's message is of historical interest. The play's fears – that Maori are doomed either to life without grandeur or to dignity and death – shock with their restrictive hopelessness. People really thought this only half a century ago? In this Auckland Theatre Company production directed by Colin McColl, Rena Owen has the face of "epic grief" and "wonderful warmth" Mason's stage directions call for, but her Aroha is primarily a hard, rigid woman. At first, the character also seems slightly mad, like a Tennessee Williams heroine; in contrast, by the last scene, Owen is powerfully still, a patrician holding her head high. She and the rest of the older cast are excellent, particularly Catherine Wilkin whose Mrs Atkinson is very sympathetic, while Stuart Devenie's knees revel in their very own cameo, thanks to Dr Lomas's kilt. Of the younger cast, Fern Sutherland as the snippy Sylvia is the stand-out, while Tiare Tawera handles Johnny's emotional scenes with passion and grace. Unusually, Edwin Wright, as the reasonable parson, plays an authoritative, grown-up role and he rises to the occasion. Set designer Tony Rabbit has blanketed the stage and back wall with busy horizontal planks; the Chekovian despair of The Pohutukawa Tree is underlined by this overwhelming mass of chopped wood, but the props and locations of actors' entrances don't quite take on the job of grounding the action in any particular setting. Most post-war pieces Auckland has seen in recent years are American – interestingly, The Pohutukawa Tree shares the high-tension drama of Williams, Arthur Miller et al. It is as much a product of its international era as its country, challenging the myth of 1950s cultural isolation.
---
Pohutukawa Tree
Review [September 6, 2009] Bruce Mason's Pohutukawa may be fifty years old but it has the freshness and contemporary relevance of a play written last week. While it's a play which deals with multi racial New Zealand it does so in a way which avoids stereotyping, preaching or being overly political. It addresses the varying perception of the land with the Maori awareness of its history and spirituality set against the Pakeha view of its productivity and profitability. Even though it deals with big social issues it is ultimately about the relationships of one family with their community. The Pohutukawa Tree tells the story Aroha Mataira, who lives with her two children Queenie and Johnny, at Te Parenga. She has brought her children up to believe in their Maori cultural history as well as in the values of Christianity. Queenie is seventeen and Johnny is eighteen. Aroha is under pressure to sell the family owned small area of next to Mr Atkinson who has a large land holding where the Mataira's work in his orchard. Queenie meets a young man and falls in love with him. And becomes pregnant but he refuses to marry her because she is a Maori and his mother wouldn't understand. Mrs Mataira sends Queenie away to her people, the Ngati Raukura, at Tamatea, where she has the baby and marries into the tribe. Johnny reacts violently to the family's unhappiness. He gets drunk and taking a taiaha, goes to the Church and smashes the stained glass window of the Light of the World. He is charged with willful damage and sentenced to three months' reformative detention. The two calamities and the world of commercial realities is too much for Aroha to cope with she and slips into a depression and dies of a heart broken by her children and the knowledge that she has duped herself with values which are no longer relevant. Central to the play are the debilitating effects of religion and conservatism and how it can wreck an individual. For, while the play concerns land issues and relationships between Maori and Pakeha it is about individuals and how they cope with their lives. Rena Owens Aroha is a full of pent up of emotions which are released in torrents of aphorisms and references to the Bible, phrases which have been inculcated rather than learnt from experience. She manages to convey this internal dilemma of a matriarch who has lost contact and control of her tribe, her children and herself. Maria Walker brings a depth to the role of the seventeen year old Queenie. The discovery of a new world of love and her rejection of adult manipulation and control are all conveyed with a subtly of expression and acting. Tiare Tawera as Johnny has a difficult role with a character loaded up with too many facets – dreamer, simpleton, drunkard and Warrior but he captures much of the essence of the conflicted young man. Edwin Wright creates a an intelligent role as the voice of liberalism while dealing with his own personal and religious problems. Stuart Devenie gives a solid performance as the Scottish Dr Lomas as do Peter McCauley as Mr Atkinson and Richard Knowles as the suave boyfriend Roy. Mrs Atkinson might be so easily played as a colonial stereotype but Catherine Wilken's presented a finely judged portrayal of middle class genteel lady of the land confronting the reality of her relationship with the Matairas The unseen Pohutukawa tree exists as symbol of cultural and history providing shelter and solidity. But the same tree with its roots exposed is in danger of dying. It becomes a symbol of Aroha and her life as well as that of elements of Maori society which are unable to adapt to changing social demands. Tony Rabbit has created a tremendous minimalist set. It stretches the width of the stage with no flats at the sides. It consists of full rear wall made of timber lengths and a curved "hill" along the centre of the stage also of timber. It provides a sense of a world enclosed, a combination of protective fortress and repressive prison. The effect is a subtle combination of enclosure and openness, Some of the sub plots would have had a much greater potency when originally written but now have a new relevance. The conquest and ownership of land is seen in a wider context with Reverend Sedgwick revealing that he became a minister after being a bomber pilot in World War II and his part in the "mass murder". His comments are set against the history of Te Parenga where Maori had massacred the British troops but the land had subsequently been bought by settlers.
---
Rena Owen to star in new Sunday drama
Role [August 31, 2009]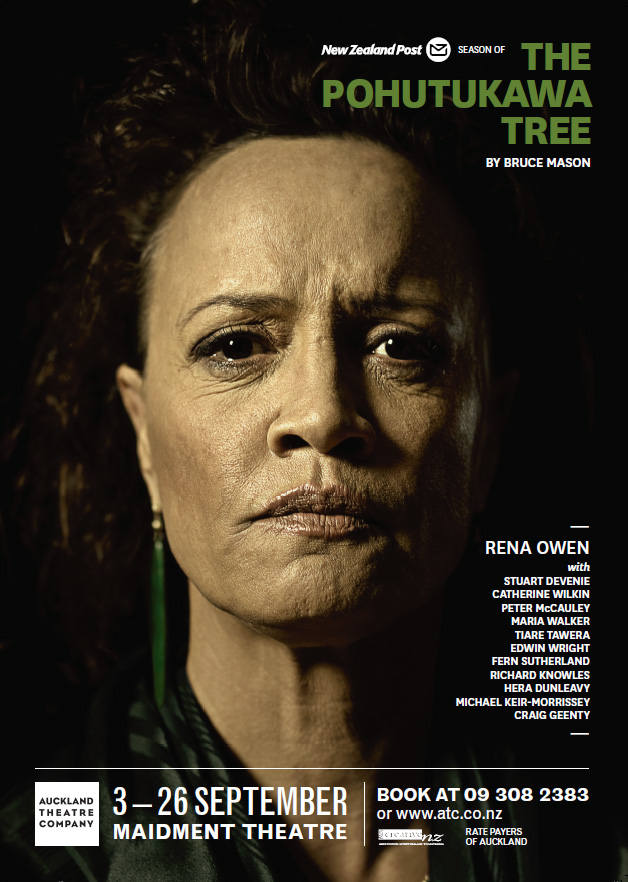 Starting September 3, 2009, Rena will be starring as Aroha in Bruce Mason's classic play, "THE POHUTUKAWA TREE". The play, directed by Colin McColl, runs through September 26 at the Maidment Theatre in Auckland, NZ. Visit the Auckland Theatre Company's web site for more information or to purchase tickets. Baby Blues Review [April 6, 2009] When Annie Whittle was growing up in the 1950s and 60s, girls would often disappear from class for no apparent reason and return, mysteriously, months later. "Nothing was said but everyone knew what had happened," says Whittle. "Back then it was called 'getting into trouble'. It was hugely scandalous and it wasn't until later you learnt the ramifications of what had happened: the shattered lives, fractured families, mothers against daughters – and the effects on the children. A lot went on to lead happy lives but some didn't." She is, of course, talking about the tragedy of unmarried, pregnant teens, who were told they had no option but to give up their babies for adoption, lest it spoil their family's reputation and their chances at a "normal" life. At the time it was considered the done thing to secretly send the disgraced girl to a Christian nursing home for unmarried mothers. But the effect was often devastating, not only for the young mothers but their entire families – including the children who often grew up without answers. As a slice of New Zealand's history it's a grim insight into the strict family values of the time. As a television drama, written and directed by Fiona Samuel (named 2005's Buddle Findlay Sargeson Fellow) and based on Renee Taylor's 1995 novel Does This Make Sense to You?, Piece of My Heart, produced by Michele Fantl of MF Films, is an uplifting tale of friendship, reconciliation and hope. Whittle co-stars with an incredible cast featuring Rena Owen (Once Were Warriors), Keisha Castle-Hughes (Whale Rider) and Emily Barclay (In My Father's Den). Edmund McWilliams (Ed Cake) produced the music. The novel struck a chord with Samuel, who vividly recalls bringing her adopted younger brother home in 1968. But it would take her 10 years and a relatively small $1.5 million budget to get her screenplay to the screen. Piece of My Heart is the second of four local dramas to feature in the Sunday Theatre slot this year, following the David Dougherty biopic, Until Proven Innocent. Life's A Riot, about the 1932 Queen St riots, is also in the schedule. Whittle stars as the central character, Flora Thornley, a woman who has spent her life hiding; through flashbacks we meet the younger Flora, played by Barclay. While living in the hellish home for unwed mothers she befriends the headstrong and compassionate Kat (Castle-Hughes), and together they suffer the ignominy of their situation and the bleak living conditions wrought upon them as punishment. Years later, faced with a rejection letter from her daughter, Flora runs away from the loving husband she has never told and reconnects with Kat, (Rena Owen) who has taken in a stroppy, pregnant teen with no sense of the reality about to hit her. Playing Flora was Whittle's "most intense" filming experience yet. A veteran of the New Zealand screen, whose CV includes the Billy T. James Show, the feature film, The World's Fastest Indian and roles that allowed her comedic skills to shine: Shortland Street, Outrageous Fortune, Go Girls, it's heartening to hear she was overwhelmed by excitement and insecurity on learning she'd be joined by her fellow castmates. Whittle brings a humility, warmth and vulnerability to Flora, a woman whose pain got under her skin during the six-week shoot. "I found the process really challenging," she says. "I'm quite a 'big' person. That old adage less is more holds true for acting. I'm rather inclined to be over the top, I need someone to rein me in. This was such an internal role and I'm so grateful to Fiona as my director, as she's an actress too. We'd worked together on stage before. She knows me and I trusted her, she was so lovely and supportive. Because it did get to you. I know it did to Rena." Owen, who recently finished filming in the United States, where she played a prison officer on Prison Break (she is now writing and producing the New Zealand feature film, Behind The Tattooed Face by Heretaunga Pat Baker), was drawn back to her homeland by the "juicy" script. As the street-smart but heartbroken Kat, her performance will move viewers to tears. "I could not relate to adoption, I have never had a baby, I am not a lesbian and I am definitely not in my late 50s!" she says. "But I know how to feel older, play older and project older." Her last New Zealand role was in Vincent Ward's Rain Of The Children, in which she played a woman in her 70s. Still, she wasn't prepared for the weight of playing a woman whose life and story is based on truth. Kat had taken over "my entire being". "I felt an edge of insecurity and pressure but I didn't know why … I realised the last time I experienced this pressure was when I was preparing for Beth Heke in Once Were Warriors. "Kat was a 'heavy' character. I carried her grief … The day after [filming], I felt so much lighter." To help the cast get to grips with the tragedy, a woman who had been through Flora and Kat's story, came in to tell them about her experience. "She'd never talked about that before. She said it was an incredibly healing afternoon for her and she nearly forgave her mother, which is interesting," says Fantl. Renee Taylor also provided letters written by women who lived in the homes. Playing the young Kat was close to home for Castle-Hughes, who fell pregnant herself at 16, and who followed her Oscar-nominated performance in Whale Rider with a role as the Virgin Mother in The Nativity Story. (Her next role is The Vintner's Luck directed by Whale Rider's Niki Caro.) It's a mature performance that shows another side to her talent but it almost didn't happen. Initially she was wary of playing a pregnant teenager, "the repercussions that could come with me putting myself out there like that. "I don't like being defined as a young mother, because I am just a mother to a beautiful little girl." But after reading the script she realised it was a story that had to be told. "Playing the physical aspects of pregnancy were a lot easier for me but the mental and emotional places I had to go through regarding losing or giving up a child were very hard. It took me a long time to allow myself to fully go there … I didn't want to obviously play the tough girl, because Kat possesses a great strength but is still a young girl struggling with something most grown women would find hard to deal with." Likewise, playing the shy, curious Flora, a normal teen oblivious to the dangers of unprotected sex, seems streets away from Barclay's award-winning turn as the slutty Katrina in the Australian film, Suburban Mayhem. Barclay is currently travelling. The younger actresses feature in Flora and Kat's flashbacks, which meant that although they did get to meet and exchange character details, they didn't film any scenes together. Filming the production in Auckland and Dunedin late last year was an extremely emotional experience, says Fantl, who was just one of many cast and crew touched by adoption. "I'm adopted. When I had my first child I thought about contacting my birth parents but I was wary of being rejected again. I sent a letter but never heard back, so I thought that's that, and I'm in my late 40s. In my day parents believed they adopted you for good. There was no open-door policy and mine were adamant I shouldn't make contact." Whittle, too, has a story about the secrecy of adoption, a friend whose girlfriend fell pregnant in the 1960s. When her Catholic parents found out they protested against the couple marrying – but then the girl lost the baby and they broke up. Twenty-six years later the truth emerged when the man's daughter, unknown to him until now, turned up on his doorstep. "They were such different times but it was only 40 years ago," says Fantl. "It's such a shame people didn't want the neighbours to know. I'm expecting [Piece of My Heart] will touch people and begin the healing."
---
Rena Owen to star in new Sunday drama
Role [October 22, 2008] Filming of the latest drama commission for TV One's Sunday Theatre slot starts on October 28. Writer/director Fiona Samuel's A Piece of My Heart is an adoption drama that deals with reconciliation between mother and child, husband and wife, past and present. It will shoot primarily in Auckland, with a few days in Dunedin, and is being produced by Michele Fantl, of MF Films. Casting is continuing but Fantl is "thrilled" to have signed Rena Owen in one of the lead roles. She says casting is a challenge because two of the chief characters need to appear as teenagers in flashbacks, "so trying to find matches is hard". In addition to casting director Christina Asher, the crew includes costume designer Kirsty Cameron, 1st AD Robyn Grace, editor Margot Francis, and DoP Dave Cameron. Fantl says Cameron and Samuel worked together on a short film she recently wrote and directed for the NZ Drama School. "She loved the experience so much she convinced me to give him this break. He's previously worked on Karaoke High and Amazing Extraordinary Friends but this is his first primetime film/drama." A Piece of My Heart will screen next year, along with two other Sunday Drama commissions, Life's a Riot and Until Proven Innocent.
---
Rena will be unable to attend OmegaCon
Appearance [February 4, 2008] Due to unexpectedly having to return to New Zealand, Rena will be unable to attend OmegaCon this year as previously announced. She regrets the inconvenience and hopes to see you at a future show! Wizard World, Dallas, Texas, November 16-18, 2007 Appearance [October 9, 2007] Rena will be signing autographs at Wizard World, to be held at the Arlington Convention Center, November 16-18, 2007.
---
Rena Featured in New Book by Andrew Harvey
New Book [May 29, 2007] Custom made hat by Jeff Higginbotham of Higgz. Photo taken by Andrew Harvey Jan 2008 in NZ. Check out the very cool photo of me in Andrew's awesome coffee table book called "Aim High". I am honored to be in this limited edition book! http://www.aimhighexhibition.co.nz
---
Star Wars Celebration 4, Los Angeles, May 24-28, 2 Appearance [May 21, 2007] Rena will be signing autographs at Star Wars Celebration 4, to be held at the Los Angeles Convention Center, May 24-28, 2007. This is an event not to be missed!
---
Comic Book and Science Fiction Show, February 11,
Appearance [February 1, 2007] Rena will be signing with Ray Park ("Darth Maul"), Daniel Logan ("Young Boba Fett") and Bonnie Piesse ("Aunt Beru") at the One Day Comic Book and Science Fiction Show, at the Shrine Auditorium, Los Angeles
---
The Vagina Monologues, February 10, 2007
Performance [February 1, 2007] Rena will be attending the celebrations of New Zealand's Waitangi Day in Los Angeles, along with screen ex-husband Jake "Jango Fett" Heke, Temuera Morrison, and rising Hollywood Movie Star, Martin Henderson. The day, a National Holiday in NZ, celebrates the signing of the Treaty of Waitangi between the British and the Maori in 1840. Lots of ex-pat Kiwis and friends are expected on the day to help the hugely talented Mike Mizrahi build a giant NZ fern leaf on Santa Monica Beach. It will be broadcast back to NZ.
---
Waitangi Day, Los Angeles, February 10, 2007
Appearance [February 1, 2007] Rena will be attending the celebrations of New Zealand's Waitangi Day in Los Angeles, along with screen ex-husband Jake "Jango Fett" Heke, Temuera Morrison, and rising Hollywood Movie Star, Martin Henderson. The day, a National Holiday in NZ, celebrates the signing of the Treaty of Waitangi between the British and the Maori in 1840. Lots of ex-pat Kiwis and friends are expected on the day to help the hugely talented Mike Mizrahi build a giant NZ fern leaf on Santa Monica Beach. It will be broadcast back to NZ.
---
Celebrity Meet and Greet Show
Appearance [January 8, 2007] Rena regrets that she will have to cancel her appearance at the Celebrity Meet and Greet Show on January 13, as she is still filming on location in Budapest.
---
Sundance Film Festival
Film Festival [January 20, 2006] Rena will be at the Sundance Film Festival next week. She will be meeting with the New Zealand Film Commission to discuss her project "Behind the Tattooed Face", and she may also speak on a few panels while she is there.
---
Two New Feature Films by Eric Tretbar
Film Update [September 13, 2005] LOS ANGELES, CA–(MARKET WIRE)–Sep 13, 2005 — Film director Eric Tretbar, winner of the Berlin Film Fest audience award and Independent Spirit Award nominee, is once again "someone to watch." Tretbar follows up his Berlin Forum-winner, "THE USUAL," and Sundance Channel debut, "SNOW," with two new feature films: "GIGI 12×5" and "THE HORRIBLE FLOWERS." Both films feature hot garage rock soundtracks… "THE HORRIBLE FLOWERS" (now in post-production) stars Emily Cline ("IN THE COMPANY OF MEN"), and Rena Owen ("ONCE WERE WARRIORS," "STAR WARS II," "STAR WARS III"). "THE HORRIBLE FLOWERS" is a rock and roll Orpheus story about a veteran garage band leader who travels to the underworld of her past to resurrect the life and love she left for dead. – Read the entire press release
---
Showstopper Stars Spectacular
Appearance [August 23, 2005] Rena will be appearing at the Showstopper Stars Spectacular show at BEVERLY GARLAND'S HOLIDAY INN at 4222 Vineland Blvd in North Hollywood, CA, August 27-28.
---
Dragon-Con
Cancellation [August 22, 2005] Rena regrets to inform her fans that she will be unable to attend Dragon-Con this year, as was previously advertised.
---
New roles for Owen
Film Update [August 7, 2005] Actress Rena Owen is working on her own film project. Owen, who played battered but unbowed Beth Heke in the award-winning 1995 movie Once Were Warriors to Temuera Morrison's fearsome Jake the Muss, has been working on a movie script for Heretaunga Pat Baker's 1975 work Behind the Tattooed Face. Owen said it would be up to eight years before the movie reached the screen. "We need US$30 million (NZ$43 million)." Getting funding for the project was one of the reasons Owen now lives in Los Angeles but despite the film's challenges, she remained confident. "This was the first historical novel written by a Maori. Film makers have tried to make it every decade [since it was written]." As well as a slew of lower budget and independent films, Owen has also been very visible as Senator Nee Alavar in Star Wars Episode 3: Revenge of the Sith and as Taun We in Star Wars Episode 2: Attack of the Clones, also featuring Morrison as bounty hunter Jango Fett. Her latest role is as a Courtney Love-type "outrageous rock and roll" character in the independent production The Horrible Flowers. – NZPA
---
CauldronCon 2005, August 12-14, 2005
Appearance [July 28, 2005] Rena is scheduled to attend CauldronCon 2005 August 12-14 at the Sheraton Ferncroft Resort in Danvers, Massachusetts! She will be signing autographs along with actors from the Harry Potter films, Lord of the Rings, and Star Wars.
---
San Diego Comic-Con
Appearance [July 6, 2005] Rena is scheduled to attend San Diego Comic-Con July 14-17 in San Diego, CA! She will be signing autographs in the Official Pix booth along with Amy Allen, Kenny Baker, Daniel Logan, Peter Mayhew, Ray Park, Billy Dee Williams, and Matthew Wood.
---
Hollywood Collectors Show
Appearance [July 1, 2005] Rena is scheduled to attend the Hollywood Collectors Show July 30-31 in its new Burbank location! Joining her will be other "Star Wars" actors Daniel Logan, Debbie Lee Carrington (Ewok), Amy Allen, Michonne Bourriague, Kenny Baker, and Ray Park.
---
Rena's Latest
Various [June 8, 2005] Rena will be travelling to Fresno this weekend for the Fresno Collectable Convention. Joining her will be fellow "Star Wars" actors Peter Mayhew (Chewbacca), Felix Silla (Ewok), Margo Apostolos (Ewok), and Hal Wamsley (Jawa), in addition to many other sci-fi actors. On Monday, she will be attending the presentation of the AFI Life Achievement Award to director George Lucas. Steven Spielberg is scheduled to present the award to his longtime friend. In addition, Rena and her script consultant are working hard on the next draft of "Behind the Tattooed Face".
---
Rena completes filming "The Horrible Flowers"
Film Update [May 23, 2005] Rena recently completed filming Eric Tretbar's independent film, "The Horrible Flowers", in which she plays a Courtney Love-like character. It is the story of Bettina, a veteran garage band leader who journeys to the underworld of her past to confront the life and love she left behind.
---
Rena to appear at Hollywood Blvd. Appearance [May 16, 2005] Rena will be appearing this week (May 18-22) at the Hollywood Blvd. Eatery, Bar & Theatres in Woodridge, Illinois. Joining her will be fellow "Star Wars" actors Ray Park (Darth Maul), Jeremy Bulloch (Boba Fett), Daniel Logan (young Boba Fett), and Amy Allen (Aayla Secura).
---
Fresno Collectable Convention 2005 Appearance [April 13, 2005] Rena is scheduled to attend the Fresno Collectable Convention June 10-12 in Fresno, CA! Joining her will be other "Star Wars" actors Peter Mayhew, Felix Silla, and Margo Apostolos, and many other sci-fi actors.
---
Free "Once Were Warriors" screening with Rena Owen Film Festival [April 12, 2005] Visual Communications and Project:Involve proudly present a tenth-anniversary screening of Maori director Lee Tamahori's award-winning classic "Once Were Warriors" at the VC FilmFest 2005 Los Angeles Asian Pacific Film Festival.
---
SATURDAY, APRIL 30, 2005, 4 p.m. at the Directors Guild of America, 7920 Sunset Blvd., Theatre 1, in Los Angeles. FREE Admission! IN PERSON: Actress Rena Owen, plus other special guests See the flyer for details or reserve your seats on the VC FilmFest web site.
---
"Wicked Prayer" Premiere Film Premiere [February 28, 2005] "The Crow: Wicked Prayer" will have its premiere this Wednesday, March 2, 2005, at 5:00pm. The event, hosted by the Make a Wish Foundation, will take place at the Loews Universal Citywalk Cinemas at Universal Studios in Hollywood.
---
Kiwi film industry party in Hollywood
Kiwi film industry party in Hollywood [February 28, 2005] The New Zealand film industry gathered together in Los Angelas at a special function to celebrate this years kiwi oscar nominees. With 35 kiwi oscar nominations in four years the who's who of New Zealand film turned out to celebrate. "We're kind of flavour of the month and I hope it's going to last longer than a month because we've got Narnia and King Kong in the next couple of years – we've got Taika at the oscars – we've got a lot of good films in the make so we've started a momentum that we hope will continue," says actress Rena Owen. "They're very receptive to us downunder and they think too if you're an actor in New Zealand you're doing it for the love of it so they respect you and they still remember once were warriors so they think we're tough," says actor Dean O'Gorman. New Zealand's oscar nomination team has been completed with the arrival of Weta Workshop envoy Joe Letteri, a nominee for the visual effects of 'i robot'. "You never take it for granted this one was a surprise like i said it was a lot of hard work in a really short period of time and it was really nice that the academy recognised it because there were some really good films this year," says Letteri. Letteri joins the other kiwi oscar hopefuls – The makers of the nominated short film 'Two cars, one night', and 'Shrek 2' director Andrew Adamson. New Zealanders working in LA expect the success to continue. "People in New Zealand are willing to tell original stories, people in Hollywood a lot of the time try to make the same movies because they think it's going to make money," says Actress Melanie Lynsky. Watch the related video.
---
GRAND SLAM XIII in Pasadena
Appearance [February 25, 2005] Come visit Rena at Creation Entertainment's Grand Slam XIII: The Sci-Fi Summit in Pasadena, CA, Fri. Sat. & Sun. MARCH 11 – 13, 2005! Mark Hamill will also be appearing. Visit the official web site for more details.
---
Star Wars Celebration 3
Appearance [February 25, 2005] It's official – Rena will be attending Star Wars Celebration 3 April 21-24 in Indianapolis, Indiana! She will be signing autographs in the Autograph Hall, so you may bring your item for her to sign or purchase one of the officially licensed Celebration 3 photos. Read the official announcement here.
---
Rena Owen arrives for Tahiti film festival
Film Festival [January 29, 2005] New Zealand actress Rena Owen arrived in Tahiti Tuesday to participate on the jury for the 2nd International Oceania Documentary Film Festival to be held from Jan. 26-29. Ms. Owen, who starred in the 1995 movie "Once Were Warriors" and has appeared in Star Wars Episodes II and III, is one several persons from Oceania who will judge 20 films in competition. Another 17 films will be shown during the festival, but will not be in competition. Ms. Owen, whose mother is European and whose father is New Zealand Maori and Scottish, began her acting career in the 1980s in London. She has since become one of the most well-known actresses from New Zealand following her role in "Once Were Warriors". She is one of 15 jury members for the film festival. She is joined by Walter Zweifel, Radio New Zealand International editor; Véronique Cayla, general manager of the Cannes Film Festival; Tia Bareth, the New Zealand governor general's first secretary; and Octave Tonga, head of the Jean-Marie Tjibaou Cultural Center in New Caledonia. Five personalities from French Polynesia are also jury members. The jury is once again headed by Hervé Bourges, chairman of the Union of the French-Speaking Press and also known for having been chairman of the French High Audio-Visual Council after having been head of France-Télévisions.
---
Interview:Documentary feast for local cinema-goers
Film Festival [January 28, 2005] The people of French Polynesia are being treated to a feast of documentaries on the Pacific, during the Second International Oceania Documentary Film Festival, now underway in Tahiti. Thirty-seven films are on show, 20 in the official competition. The winners will be announced late on Saturday, Australian time. Presenter/Interviewer: Jemima Garrett Speakers: Rena Owen, New Zealand actor; Heremoana Ma'ama'atuaiahutapu, directo of culture, French Polynesian government Listen to the interview
---
New guestbook online Site Update [January 10, 2005] The Guestbook section is now online! We apologize for any inconvenience in getting the new guestbook online, and for any offense caused by any content that appeared in the previous one.
---
Momentum Builds For Wairoa Maori Film Festival
Film Festival [October 29, 2004] Momentum continues to build for the first Wairoa Maori Film Festival, to be held next June at the commencement of the Matariki celebrations. "We're excited at the news from the All Roads National Geographic indigenous film festival in Los Angeles that our patron board is now joined by Cliff Curtis and Rena Owen," says festival director Leo Koziol. "With the mana of these industry leaders, a unique energy is growing for an exciting event here in Wairoa next year." Supporters of the first Maori Film Festival in Wairoa now include Nga Aho Whakaari (the national association of Maori film and television makers) and the New Zealand Writers Guild, who plan to host a Maori Screenwriters Hui alongside the festival. "It is hoped to have a Maori scriptwriting competition at the festival, with prizes for scripts in Maori and in English," said Mr. Koziol. Over the long weekend the organising committee for the Wairoa Maori Film Festival held their inaugural hui in Nuhaka. "An incorporated society is to be established, under the banner of Te Ara Rautaki," explained Mr. Koziol. "Te Ara Rautaki means setting out a strategic path for a long-term future." Executive Committee members are Leo Koziol (Chairman), Huia Koziol, Alan Chilcott, Huia Brown, Sonia Anderson, Desna Whaanga-Schollum, Tania Cotter, Doreen Taiapa, and Pauline Tangiora. "Our members bring a wealth of national and international experience and networks, with specialised skills in events management, marketing, branding, web design and film-making," says Mr. Koziol. "The stage is set for an exciting and successful event." The theme for the inaugural festival is Mana Wairoa: The World Through a Maori Lens. The film programme is still in the early stages of planning, with the festival including historic and contemporary material. Current patrons include Merata Mita, Don Selwyn, Mayor Bob Harvey, Karen Sidney, Roger Donaldson, Witi Ihimaera, Dame Georgina Kirby, Derek Fox, Mika and Mayor Les Probert of Wairoa. The Gaiety Cinema and Theatre in Wairoa has expressed their support for the festival and will make their venue available for the event. A film festival website has been set up, providing information about the festival and outlining the attractions that Wairoa has to offer — www.manawairoa.com. "The goal will be to turn traditional perceptions of Wairoa (crime, poverty) on their head and make the town a centre for cultural creativity and renaissance," said Mr Koziol. "This is something very positive for the community." "It is for the locals as much as the tourists, to celebrate New Zealand's unique culture and its achievements within the film industry."
---
Chiller Theatre
Appearance [September 30, 2004] Rena haunts the Chiller Theatre in East Rutherford, New Jersey, OCTOBER 29 – 31, 2004. Come join the fun!
---
Texas Superhero Sci-Fi Collectors EXPO
Appearance [September 30, 2004] Rena will be a guest at the Texas Superhero Sci-Fi Collectors EXPO in San Antonio, Texas. Stop on by and say howdy!
---
Te Awa i Tahuti at Matariki Festival
Upcoming Event [June 10, 2004] Te Awa i Tahuti, a play written by Rena Owen, will be performed from 6 to 11 July at the Tapac performing arts centre, Motions Road, Western Springs, New Zealand, as part of the Matariki Festival. Phone (09) 300 3700 for information.
---
SCI-FI & TOY Convention, Mexico
Appearance [June 3, 2004] Rena will make her first appearance at a Mexican convention this summer at the SCI-FI & TOY Convention, Mexico, July 2 – 4. Come see her there!
---
Senator Nee Alavar
Film Update [April 2, 2004] According to the official Star Wars web site, Rena's character in Episode III now has a name: Senator Nee Alavar.
---
Rena Owen Talks The Crow
Film Update [March 29, 2004] Comics Continuum has posted some comments from Rena about "Wicked Prayer": Rena Owen, who plays a supporting role in The Crow: Wicked Prayer, told The Continuum that the film appears to be in good shape. "I just talked to the director (Lance Mungia) last week, and he's really happy with it," Owen told The Continuum at last weekend's Wizard World Los Angeles. The Crow: Wicked Prayer stars Edward Furlong in the lead role. The cast also includes David Boreanaz, Tara Reid and Dennis Hopper. The film was shot in Salt Lake City, Utah last summer. Owen plays Mary, the wife of a preacher who is killed by the gangleader played by Boreanaz. Owen worked with Boreanaz before, guest-starring on Angel. "Eddie's great and I think David is the epitome of a leading man," Owen said of her castmates. Owen said she thought the first Crow movie was ground-breaking. "It blew me away, kind of like the first Star Wars," she said. "Back then, it was really cutting-edge stuff." There have been reports that Wicked Prayer might be a direct-to-video release, but Owen said she hasn't heard when or where the film will come out. "I don't know," she said. "I just can't wait to see it."
---
Articles section up; new photos added Site Update [March 12, 2004] The Articles and Interviews section is now online, and several new photos have been added to Rapa Nui. Photos of the Lord of the Rings Oscar Party are also available.
---
Site Redesign Site Update [March 9, 2004] The site has a new look and added features, plus lots of new images. You can either find these in the gallery pages or on the detail page for each of Rena's films. Enjoy the new site and please send your feedback to the webmaster!
---
Collectormania 5
Appearance [March 9, 2004] Rena will be making a rare European appearance at Collectormania 5 April 30 – May 3, 2004 at thecentre:mk, Milton Keynes, Buckinghamshire, UK. Although she is listed as a guest at the Pittsburgh Comicon the same weekend, she will not be attending.
---
Wizard World Long Beach
Appearance [March 8, 2004] Rena will be attending the Wizard World Tour at the Long Beach Convention Center March 20 and 21. Come see her there!
---
Rena completes filming Episode 3
Film Update [August 8, 2003] Rena has completed filming for her role as a Senator in "Star Wars" Episode 3.
---
Star Wars at Creation Convention
August 1, 2003 The Star Wars glaxy had strong representation at Creation Entertainment's Sci-Fi Summit during a beautiful three days in Pasadena, California March 28-30. The convention highlighted several other TV series and movies, with a weekend full of stage events, dealer rooms, autograph opportunities, auctions, evening shows and–of course–a costume contest. Dave Prowse (Darth Vader), Peter Mayhew (Chewbacca), Kenny Baker (R2-D2), Jeremy Bulloch (Boba Fett), and Princess Leia herself, Carrie Fisher, were the Star Wars headliners. Also in attendance were supporting cast and production crew, including Garrich Hagon (Biggs), Maria de Aragon (one of two Greedo's), Mike Quinn (Nien Nunb), Mercedes Ngoh (Rystall, one of Jabba's dancers), Zachariah Jensen (Kit Fisto), Rena Owen (Taun We), Silas Carson (Nute Gunray), Maria Apostolos (Ewok) and David Barclay (Jabba and Yoda puppeteer). The Star Wars celebrities spent three days mingling with a large and delighted group of fans, including many in full costume. There was a Star Wars panel where the fans could ask questions of the guests regarding their film experiences. Saturday brought the main-stage events with Prowse, Mayhew, Baker, Bulloch, Carson, and de Aragon. The actors were even escorted by an "honor guard" consisting of Darth Vader flanked by Jango Fett, Imperial officers, and a garrison of stormtroopers. The highlight of the weekend came as Carrie Fisher took the stage in a rare convention appearance. Looking very relaxed, the celebrated writer and actress was very candid and humorous about her life, her co-stars, her wardrobe, and of course the Star Wars movies. Serious at times, but mostly making light of her struggle with substance abuse and her famous mother Debbie Reynolds, Fisher drew laughs when she said, "Mom and crazy go hand in hand so, of course, I live next door to her." Another funny moment was when she told the crowd that her favorite Star Wars item is a shampoo bottle of herself. "I get to twist my head off and pour goo out of my neck. How can you beat that?" One of her favorite film moments occurred in Return of the Jedi, when she got to kill off Jabba the Hutt. Her only complaint was with the costume. "Apparently, there are no bras in space," she said. "The funny thing about the costume was I didn't get to speak except one line the whole time I wore it. I guess I can't speak without clothes!" Fisher still sees some of her Star Wars co-stars and director George Lucas often, mostly at Hollywood events. No large gathering of Star Wars celebrities would be complete without a horde of enthusiastic fans in costume. This event was no exception, with large groups of stormtroopers, Jedi Knights, Imperial officers, Darth Vader, Jango Fett, and a variety of aliens. Attendees could imagine they were at the Mos Eisley cantina!
---
Episode III Casting Updates
Film Update [July 26, 2003] The official Star Wars web site has revealed that Rena will appear in Star Wars: Episode III!
---
Rena appears in "Star Wars" Episode 3 Set Diary
Film Update [July 15, 2003] A photo of Rena in her Senator costume, as well as a brief description of what's underneath the costume appears in today's "Star Wars" Episode 3 Set Diary (for Hyperspace subscribers only). January 1, 2003 Its a brand new year! Happy New Year to you all. I hope you all had a wonderful festive season and Santa Claus spoilt you! I'm back in LA. I will be a guest at the Hollywood Collectors and Celebrity show in North Hollywood, January 18/19th. I'm on the short list for a Warner Brother A list film which will shoot in Australia March/April, keep your fingers crossed! Meantime I am preparing for Pilot Season in LA. I have a standard generic American accent to master and taxes to do…plus a lot of Star Wars fan mail to attend to…bare with me..its coming!! December 1, 2002 14 days in LA. A big backlog of paperwork, and domestics to attend to. A few business meetings and scripts to read. Had a lot of fun auditioning for a guest role on "6 Feet Under". Caught up with a few good friends and attended the premiere of Two Towers-Lord of the Rings. I loved it and I'm in love with Gollum…but Yoda still reins supreme! Returning to Middle Earth for Christmas and the New Year and a much needed rest! I wish you all a very Merry, and safe Christmas! The reason for the season rocks! God bless you all!! November 1, 2002 Attended the Motorcity Comic Convention in Novi, Detroit and the Big Apple Comic Convention in New York. I'm having a lot of fun doing these conventions, learning a lot about the world of Sci-fi, and I have meet many interesting people! Theater work in New York. Workshopping a new stage play by John Ford Noonan and a new Screenplay by Jim Lawrence. Both will be produced at a later date. Also meeting with New York Casting Directors and Filmmakers. Departed New York for Thanksgiving week in Philidelphia with my Husbands family. A lovely precious family week. I think Philly is a very beautiful city…minus the cold! October 26, 2002 Another convention Rena was invited to, this time the Motor Comic Convention in Novi, Detroit. Check out their web site. October 11, 2002 Rena is attending the Dallas Comicon October 11-13th Expecting a big convention with Carrie Fisher in the house! Check out www.dallascomicon.com! October 6, 2002 Rena's first episode of "Angel"-the new Fall Season screens here October 6th on WB-Warner Brothers Channel. Rena is playing "Dinza" the demi-goddess of all lost things August 1, 2002 Rena working in "Angel"tv series as the character "Dinza". A demi-goddess of all the lost things. She also was invited to the Sci-fi Convention Dallas Texas August 24/25th.The Star Wars fans must have their bit. 🙂 Read Rena's Newsletter for august. June 1, 2002 "Pledge of Allegiance" directed by Lee Madson-character Maria Macintyre A coming of age film. Young man of 18 with his life ahead of him, gets caught up with the wrong crowd, forcing him to choose which path he will take. Set in the USA. * Lectured at USC Film School here in Los Angeles.
---
Water Giant Due In U.S.
Film Update [May 29, 2002] From scifi wire: Andrew Herwitz's Film Sales Co. has picked up the North American sales rights for The Water Giant, a fantasy family film, according to The Hollywood Reporter. Formerly titled Ogopogo, the movie tells the story of a 10-year-old boy who encounters a mythical monster, the trade paper reported. The movie began an eight-week shoot April 21 on Lake Wakatipu in Queensland, New Zealand, with John Henderson directing. Giant stars Bruce Greenwood, Rena Owen and Daniel Magder. Barry Authors wrote the script. Rainer Mockert's Munich-based MBP and Authors' U.K. independent production outfit, BarryFilms, are producing the film, in association with Jim Henson's Creature Shop, which designed and created the titular creature, the trade paper reported. May 1, 2002 Rena starred in "Paper Scissors Stone" directed by Jessie Warne-character "Emily Grey" A thriller that revolves around riddles. Why did my character kill for no apparent reason? Who and what is the "Design"…See the film. To be released by Lions Gate. * Star Wars Premiere at the Chinese Mann Theatre in Hollywood. * Delivered the Keynote Graduation Speech for the Ethnic studies Department of Berkeley University, Oakland. April 1, 2002 Starring in the feature film "The Water Giant" directed by John Henderson-character "Crazy Norma" A family film about a little boy and a creature who lives in the local lake-fact or fiction? See the film! Set in Canada shot in Queenstown, New Zealand. October 1, 2001 This month Rena will be in San Francisco directing a stage play for the Asian American Theater Company. Its a play called "Bare written" by Toa Fraser, a polynesian playwright based in NZ. August 1, 2001 Another blessing for Rena as she will be traveling back to her native country of New Zealand, to perform in a television drama called "Mataora". The nice thing is that its all in the maori language.We look forward to see this. July 1, 2001 This month Rena is traveling to Fiji to perform in a feature film called "Fire in the Womb". This gives Rena a chance to be a warrior woman. June 1, 2001 Busy month for Rena, acting in the film "TBA" in Hawaii, also got time to play a character in a Short Film called "Hi There". She also will be directing a workshop on a new screenplay by Lichelli Lazar-Lea. Rena also has been to Skywalker Ranch to record voice for her character. May 1, 2001 Rena directed a Polynesian theatrical show "Le'o" in San Francisco, USA. Also played a role in a Martial Arts film named "TBA" in Hawaii. May 1, 2001 Rena just completed being on the jury at Santa Barbara Film Festival, USA. November 1, 2000 Rena heads to Amsterdam to shoot a supporting role in an American Independent Feature Film called "Soul Assassin", opposite; Skeet Ulrich, Derek Delint and Christy Swanson. October 30, 2000 Rena taught a week long Drama Workshop in San Francisco, and also Directed a Play Reading of Pink Heaven. October 1, 2000 Rena Films a Cameo role in Steven Spielberg's A.I. (Artificial Intelligence). Possibly a first for an actor to work with George Lucas and Steven Spielberg in the same year! September 10, 2000 Another Film Festival for Rena, this time she was invited to be on the Jury at the Montreal Film Festival. September 1, 2000 Rena Owen is now based in Los Angeles in order to achieve quality acting work. She is currently being considered for A rate USA Film and TV Projects. August 20, 2000 Rena was this summer invited to be Chair of the Jury on the Manila Film Festival in the Philippines.
---
Casting Update: Local Talent Continues
Film Update [July 18, 2000] The official Star Wars web site has revealed that Rena Owen will appear in Star Wars: Episode 2: In addition to acting, Rena Owen has been a writer, director and producer. Cast in Episode II, Owen has appeared in such films as What Becomes of the Broken Hearted?, I'll Make You Happy and When Love Comes Along. Her role of Rix in Dance to My Song earned her multiple Australian film award nominations for Best Supporting Actress, while she won multiple film festival awards for Best Actress in Portugal, France, Canada and the U.S. for her role of Beth Heke in Once Were Warriors. July 1, 2000 Rena in Australia to shoot Star Wars II. Click on Star Wars banner on homepage to learn more…or to see an interview with Rena about her Star Wars experience.
---
Leading film actress to return to NZ stage
Various [March 4, 2000] Celebrated New Zealand actor Rena Owen will return to New Zealand for the New Zealand Festival 2000 production of Briar Grace-Smith's new play Haruru Mai, the New Zealand Festival announced today. Best known for her portrayal of Beth Heke in the films Once Were Warriors and What Becomes of the Broken Hearted?, Owen is increasingly in demand as a film actor in the United States, where she is now based. She will return to the New Zealand stage for the first time in three years to play the part of Pearl in the New Zealand Festival commissioned play. "Being a New Zealander, particularly a Maori, it's important for me personally to be part of this production," says Owen. "I'm always proud to be part of my country's history and Grace-Smith's play is a beautiful piece of writing." Owen has had to turn down positions on the juries of the prestigious Sundance Film Festival and the Santa Barbara Film Festival to take up the role in Haruru Mai at the Festival. New Zealand Festival organisers are delighted that Owen has agreed to be part of the Festival, particularly considering the lucrative and high profile film-work she is being offered in the United States this year. Owen's latest American film, An All-American Girl, opens in Los Angeles on Monday. The film is based on the true life story of teacher Mary K Letourneau's love affair with a student, which hit headlines across the world several years ago. Convicted of rape, Letourneau is currently serving a prison sentence of 7 years in the United States. Owen stars as the student's mother in the film, which is expected to draw huge audiences across the United States. Owen will begin rehearsals for Haruru Mai in Wellington in February but will have to return to the United States briefly to film a cameo on Gary Fleder's film The Imposter, starring Madeline Stowe and Gary Sinise. The cameo was created especially for Owen by the director. "To me there's no question of what's more important," says Owen of her choice — with such major commitments — to return to New Zealand for the Festival. "For me this is about completing a circle. My first international arts festival in Wellingto was in 1990 with Jim Moriarty and for 10 years I've always known this was something I wanted to do. I also always wanted to work with (director) Colin McColl and it's a commitment to who I am and where I come from." The New Zealand Festival also announced today that the cast of Haruru Mai will feature acclaimed New Zealand actor Katie Wolfe, Hone Katipa and Karl Drinkwater alongside one of New Zealand's most celebrated stage actors George Henare, in the lead role of Silas. "I last worked with George in 1993 on the film Rapa Nui," says Owen, "and I'm rapt to be working with a man for whom I have so much respect." In Haruru Mai, a World War II Maori Battalion soldier (Hanare) returns to his home town of Pukerata after 30 years of wandering to rest his conscience. He finds both love and heartbreak in Paloma (Wolfe), the daughter of a young Private shot and killed alongside him during the war. 1999 has been a busy year for Owen. As well as extensive film-related commitments she was a Jury Member at the USA Film Festival, Dallas Texas 1999 and has also had a number of drama teaching engagements, including directing workshops at Kumu Kaua, an indegenous drama school in Hawaii. Haruru Mai is presented at the New Zealand Festival 2000 in association with New Zealand Post, with the assistance of Creative New Zealand. October 28, 1999 Rena came just back from Toronto after playing a supporting role in a Movie of the Week called "An All American Girl", based on the true Mary Kay Letourneau story.
---
'Warriors' stars shine again
Film Update [May 27, 1999] It was a star-studded night for New Zealand's most eagerly awaited movie since Once Were Warriors. The cast of the sequel–What Becomes of the Broken Hearted?–made a dramatic appearance at an Auckland cinema complex as they arrived to rousing applause from fans. Rena Owen, who plays long-suffering Beth Heke, gave added sparkle to the night with a gemstone glistening in her navel. As she and Temuera Morrison, with his girlfriend and former Shortland Street actress Angela Dotchin, led the way into the premiere at the Village 8 cinema in Newmarket they received a traditional Maori greeting from four warriors brandishing taiaha (clubs). Politics also made an appearance, Auckland mayor Christine Fletcher saying the film would be a huge boost to the local movie industry. "It's a fantastic achievement and people around the world are talking about this film before it has even hit cinema screens. "There's huge expectation and hopefully it will lead to more films being made here in Auckland." The film opens in cinemas across the country today.
---
Jake and Beth On Screen Again
Film Update [October 1, 1998] Temuera Morrison is starring again as Jake, the character he created in the 1994 hit movie Once Were Warriors. He's now filming What Becomes of the Broken Hearted? which picks up Jake's story ten years later and tells of his search for redemption when his son becomes embroiled in a gang war. The new film, based on Alan Duff's 1997 award-winning novel of the same name, is being directed by Alan Mune, and is shooting in Auckland till the end of October. Rena Owen will also reprise her award-winning role as Beth. Writer Alan Duff comments: "It seems people just can't get enough of these characters. It's great to be able to bring them to life again and with this strong script and phenomenal cast I am confident we will succeed." In addition to Morrison and Owen, the cast includes Nancy Brunning (currently in When Love Comes), Edna Stirling and Julian Arahanga (who were in Once Were Warriors), Pete Smith (The Piano), and Clint Eruera making his screen debut. Bill Gavin is producing, with John Barnett and Richard Sheffield as executive producers, for South Pacific Pictures and Polygram Filmed Entertainment in association with the New Zealand Film Commission. Polygram are to distribute the film in New Zealand and Australia. Beyond International are handling world sales.
---
Rena Owen in a new major role
Film Update [May 1, 1998] Rena Owen, internationally acclaimed star of Once Were Warriors, has completed work on her second major New Zealand movie role. She plays Katie, an international singing star, in Garth Maxwell's second feature When Love Comes Along. The film is a night-time love story set in Auckland. Katie was a star in the United States in the seventies – now she still has her fabulous looks and her voice and her sophistication. She needs to reinvent herself. So she flies home to New Zealand, to revisit her roots. She moves in with Stephen (Simon Prast), her best friend and the only person she allows herself to lean on. They've rescued each other in the past. Perhaps they can save themselves one more time. Stephen can't wait for her to arrive. He's been playing all her old hits, much to the bemusement of his younger friend Mark (Dean O'Gorman) who's a songwriter with heaps of potential. But while Mark's interest is piqued by this star from Stephen's past, he's getting to know two outrageous and ambitious young musicians of the new generation. They're played by Sophia Hawthorne and Nancy Brunning. Rena Owen's internationally acclaimed performance as Beth in Once Were Warriors won her the best actress award at the Montreal Film Festival. Since then she's been starring in a top-rating Australian television series titled Medivac, and in live theatre productions in Hawaii, Guam, and New Zealand. She has also had a supporting role in Rolf de Heer's new Australian feature [Dance] Me To My Song (which will premiere at Cannes) and in Athina Tsoulis' I'll Make You Happy. When Love Comes Along was written by Garth Maxwell, Rex Pilgrim and Peter Wells, and it is produced by Michele Fantl and Jonathan Dowling for MF Films, in association with the New Zealand Film Commission which is handling international sales.
---
Oscar Comparison for Warriors' Rena
Film Update [November 9, 1994] Teenage girls in Venice are imitating the look of Once Were Warriors star Rena Owen after the movie made a huge impact in the European city. The New Zealand film about domestic violence and hope in an impoverished Maori family was screened in the non-competition section of the Venice Film Festival on Thursday. Critics are now comparing Owen to Oscar-winning actresses of the past. Lindsay Shelton of the New Zealand Film Commission said a five-minute standing ovation followed the screening, which was attended by Owen and director Lee Tamahori. "From what I hear, every teenage girl in Venice wants the Rena Owen look now," he said. In the rave reviews for Once Were Warriors, Owen has been likened to some of the great European classical actresses. Henri Behar, a critic for the French newspaper Le Monde, describes Owen as an antipodean Anna Magnani, a tempestuous Italian actress from the 1930s. Magnani won an Oscar as best actress in 1955 for her performance in The Rose Tattoo. Another reviewer drew comparisons with Jeanne Moreau, considered by many to have been France's finest actress, from movies such as Les Liaisons Dangereuses and Jules et Jim. Owen won best actress at the Montreal Film Festival last Monday, one of four top awards for the movie, including the Grand Prix of the Americas award for best film in the festival, and the Ecumenical Jury Prize for giving hope to victims of violence. It also won the Air Canada award for best film by public vote, from more than 200 movies. Cynthia Owen, Rena's mother, said she remembered Magnani and the comparison to her daugher was "awesome". "Rena is so committed to New Zealand film, TV, Maori drama, all those things, so I'm absolutely delighted for her," she said. Mr. Shelton said the ovation at the Venice Film Festival, which had the same standards as Cannes and Montreal, was important to continue the momentum of the success. Once Were Warriors is scheduled for release in the North American market early next year. Another New Zealand film, Heavenly Creatures directed by Peter Jackson, was scheduled to be screened in the competitive section at Venice this weekend. The results of the competition will be announced on Tuesday.